How can you live a comfortable weekend without Bluetooth speaker with Aromatherapy lamp?
Emily
2021-03-15 14:20:16
A thousand people have a thousand ideal ways to spend the weekend. Some people choose to work hard to make money, some choose poetry and go out to see in the distance, some choose to stay at home with air-conditioned WIFI watermelon. Who can say which is the real ideal weekend life? But what is certain is that it is not necessarily salted fish at home, it can also be a trendy entertainment that does not go out-Bluetooth speaker with Aromatherapy lamp.
Compared with ordinary portable speakers, Bluetooth speaker with Aromatherapy lamp, compatible with multiple devices, aroma diffuser, colorful night light, long battery life, extreme audio-visual effects, and immersive auditory atmosphere. But in today's fast-paced and competitive world, a lot of time is an important reason that restricts everyone from going to the concert hall to listen to music. Economic development, improvement of quality of life, leisure and entertainment are indispensable. At this time, a private Bluetooth speaker with Aromatherapy lamp is our first choice.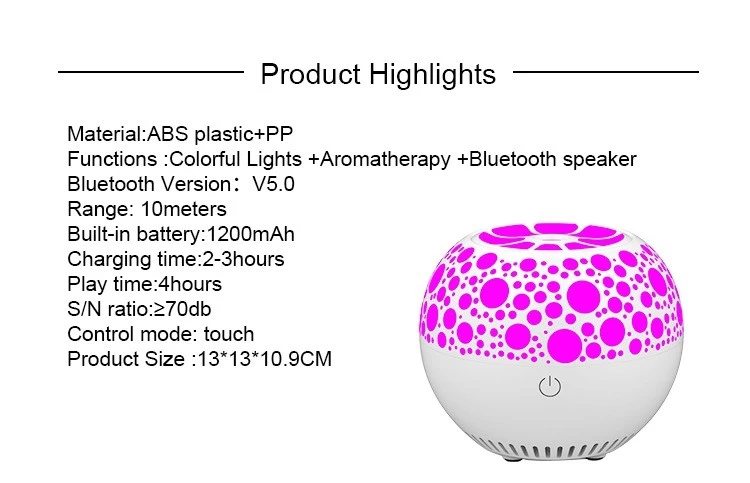 In addition to the cumbersome equipment of the traditional concert hall, the complicated wiring is even more troublesome. With the development of technology and the smart home industry, its intelligent concept will be more deeply integrated in the smart speaker, integrating the latest technology of the speaker and the traditional Compared with speakers, they can bring people a more comfortable and convenient entertainment experience, not only can bring good audio-visual effects, but also give people a sense of high-end.
So some people ask Bluetooth speaker with Aromatherapy lamp installation should be very expensive, how to match, how to connect, how to place it? The answer is: very simple, just 2 steps, Bluetooth speaker with Aromatherapy lamp is home!
The first step: space
There needs to be enough space to place the Bluetooth speaker with Aromatherapy lamp. It is not limited to the living room, it can be an independent space, it can also be a bedroom, a study, or even your working place-the office, which allows you to have fun and entertaining whatever you want.
Step 2: How to use
You only need to drop in aromatherapy essential oils when using the Bluetooth speaker, which helps to purify the air to remove odors and achieve a relatively comfortable air environment for the human body.
What are its advantages?
8 hours of battery life, built-in 1200 mAh high-performance lithium battery, colorful colors with one touch, you can enjoy the colorful night lights wherever you are, to meet the needs of various scenarios, whether it is home office, night up or outdoor camping, it can be harmoniously integrated into it, and can be combined with home decoration The environment is well integrated.
Give the weekend a sense of ceremony and give family and friends a joyful private space. Bluetooth speaker with Aromatherapy lamp will meet your needs and show you the new fashion of family entertainment.