With the involvement of 5G and Bluetooth era, how can tws wireless earphones follow the trend!
As the earliest products with wireless application technology in the current era,tws wireless earphones seem to be becoming the trend of this era for a while. Even we have seen the wide application of tws wireless earphones in many fields and environments. 3.5mm The era of the tws wireless earphones jack has been gradually moving away. What kind of combination of 5G information technology and tws wireless earphones will be optimized? It is full of expectations. Smart hardware iseverywhere in the application of tws wireless earphones, and it is more professionally divided. The Bluetooth field allows the headset to say goodbye to the delay in data transmission!
Just like our mobile phone is connectedand feels that the wifi signal is weak, it may be because the mobile phoneturns on wifi and Bluetooth at the same time, causing the system to freeze orthe background program to open too much and the running memory is full,increasing the power consumption of the mobile phone. Or when the Bluetooth and WIFI are transmitting a large amount of data at the same time, the mobile phoneCPU processing will be slower, or the power of the mobile phone will become hot. When the wifi and Bluetooth signals are transmitted at the same time, it will become difficult, and the Bluetooth or wifi will not work well.Misunderstanding of Bluetooth conflict.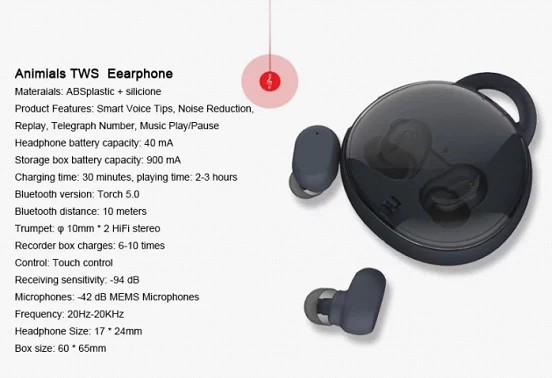 Bluetooth5.0 has 4 times the signal range, 2 times the connection speed, 8 times thedata transmission of Bluetooth broadcast, more stable and reliable Bluetooth connection. This means that the signal transmission distance of Bluetooth cancover the entire apartment, or even the entire small building, rather than aroom in the past. The faster transmission speed makes it possible to respondfaster and perform better with Bluetooth devices.
5G information technology is not only reflected in the mobile phone smart network,the tws wireless earphones market will usher in a new situation with the construction of 5G in our country, and audio data transmission will no longer be the currentlimitation. We see modern technology Under the htws wireless earphones products, the colorful style and sound complement each other. The narrow sound cavity space is no longer just a stack of hardware. What we see is a new era of smaller size,lower power consumption and more pure sound!
If you are listening to songs while working, itis important to choose a good tws wireless earphone.