2018 Antumn Electronics Edition in Wanchai, Hong Kong
Lydia
www.jaskeyworld.com
2018-09-20 15:26:29
As we all know, Autumn Electronic Products Fair and International Electronic Components Fair in Wanchai, Hong Kong Trade and Development Council, 2018, referred to as: Autumn Electronic Fair in Wanchai, Hong Kong. It is the world's largest consumer electronics exhibition. The International Electronic Components and Manufacturing Technology Exhibition is a professional exhibition in the field of electronic components, components and production technology sponsored by the Hong Kong Trade and Development Council. It is held every October in conjunction with the Hong Kong Electronic Products Exhibition. Since 1997, it has successfully held 19 sessions.
Scope of exhibition:
1. Electronic Products Exhibition - Audio-visual consumer products, automotive electronics and navigation systems, I-World, computers and peripherals, digital images, electronic accessories, personal electronics, household appliances, electronic games, electronic health care, office automation, security products, telecommunications, business services.
2. Component Exhibition - Component Exhibition Area: All kinds of electronic components and accessories, components, electronic materials, electronic equipment, motor, inductor, instrumentation optical instruments and tools. Photoelectric display area. Solar photovoltaic exhibition area.
Our company had attend the Spring Edition on April this year. And we showed our patent dancing speaker on that Edition.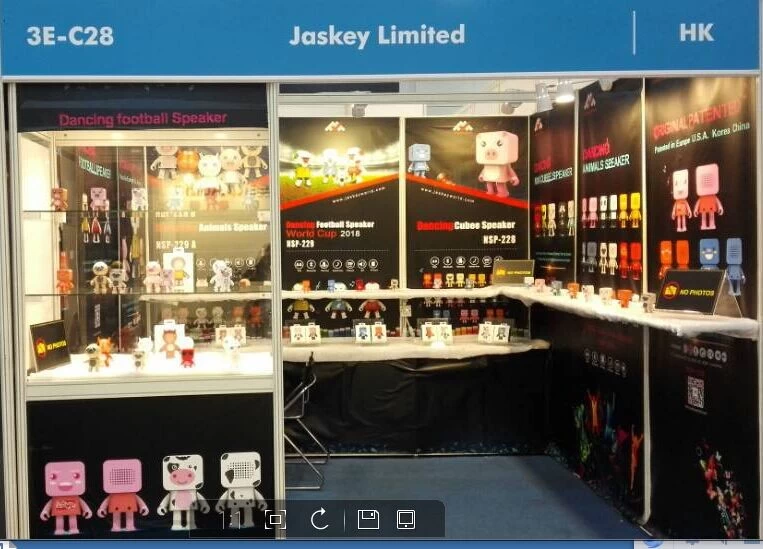 We will also attend the Autumn Edition for promoting our unqiue products for you.
Below is our Autumn Edition infor for your good refer,welcome to contact us if you will come to our hall and have a visit. Welcome to  contact Skype number: jaskeysales10!