"Made in China" brand new ones Yung flagship technology integration
People's Daily
2014-07-23 17:58:30
http://caijing.chinadaily.com.cn/2014-07/21/content_17863836.htm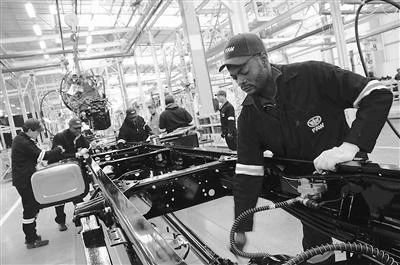 7Month10, In the Eastern Cape of South Africa Nelson Mandela Bay, Cape Province, South Africa, workers in China FAW factory production line. Xinhua News Agency Figure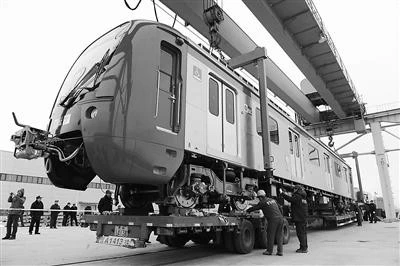 Not long ago, a new paragraphEMUEMU from China CNR CNR Corporation (CNR) FOB, rushed across the oceans in Rio de Janeiro. Daily Reporter photo
Once labor-intensive low-end cheap"Made in China", And now is a face-lift to"Technology Integration"Unveiled a new image in the world. This year, when senior Chinese leaders to visit every country has touted the new high-tech"Made in China". President Xi Jinping3During the visit to Europe in January, pushing China's nuclear power, high-speed, high-tech projects"Going". Premier Li Keqiang6Month trip to Europe not only as before, continue to promote China's high-speed rail and nuclear power, but also boost the two sides to make a breakthrough on port cooperation.
From labor-intensive to technology integration
Over the years, the international market familiar"Made in China"Mostly labor-intensive industries producing shoes and socks, hat, toys and other low-value-added products. In recent years, China's economy has grown, high-tech"Made in China"Followed by a meteoric rise.
Experts pointed out that China's labor cost advantage can not long be maintained only enhance the capability of independent innovation, the labor shift from labor advantage technology, promoting innovation in key technologies and systems integration, to achieve leapfrog development technology to enhance the level of development of China's manufacturing industry and competitiveness.
"Although the technological level of Chinese products in Europe and America as a whole lags behind, but not behind the local, and even in the lead. Such as home appliances, such as high-speed rail and photovoltaic industry, the photovoltaic industry is the master of the world's largest intellectual property."Ministry of Commerce, the International Academy of International Trade and Economic Cooperation Department Deputy 任白明 Market Research, told this reporter,"Made in China"The performance advantages of technology integration in the economic scale, long-term accumulation of technology, there is a huge domestic market, a relatively complete industrial system and industrial agglomeration advantages. Although not as developed technology, labor costs compare Southeast Asian countries, but China has an overall advantage of technology-intensive and labor-intensive the added.
For China the advantage of high-speed rail, the World Bank reports that China's high-speed rail construction cost about other countries2/3While the fare is only in other countries1/4To1/5. Industry insiders, China's high-speed rail technology level has been quite good, the management has accumulated a considerable experience, the international high-speed rail in China also have needs.
"Made in China"Market demand
More and more technology integrated"Made in China"Very attractive on the market, welcomed by developed countries, emerging markets and developing countries. About the report analyzes, after years of industrial development and technological progress, the quality of Chinese manufacturing capacity and production has great advantages, in some high-precision parts manufacturing has reached a very high level. Automotive, marine and other technical content and high added value products export growth to become the new force is proof.
According to reports, British Prime Minister David Cameron's visit to China twice last year, said Li Keqiang and Shanghai during a speech at the meeting"Welcomes Chinese enterprises to invest in the UK's high-speed rail project"And look to take Chinese high-speed rail.
This year3Month, China Guangdong Nuclear Power Group Co., Ltd. He Yu, chairman and president of the French power company Rio Pugh signed on new nuclear power projects in the UK and on industrial cooperation agreement in the field of nuclear research and development, design, procurement and operation and maintenance of a cooperation agreement in Paris. This opens a new model of Sino-French nuclear cooperation is to jointly develop the first nuclear power projects in a third country.
African and Latin American countries on China's technology, capital and products have a stronger demand. White confessed, relatively stable economic development in Africa, Latin America before the economy after a period of decline, is now basically stable, poor infrastructure in these countries need China's technology, capital and equipment. It is reported that China CNR has set up a South African company, and plans to build production base in Durban, South Africa, South African Railways and equipment for the expansion of market and business conditions provided.
Equipment and technology to promote a win-win sea
The beginning of reform and opening up, China more involved in the international division of labor by means of access to their own development opportunities, and now, China's economic strength and technological forces have shrunk, equipment and technology to the sea for China and the world, for both a mutually beneficial a win-win thing. Bai Ming pointed out that China's export of equipment and technology to other countries, will help the local economy. International division of labor in Europe led breakpoint occurs after the financial crisis, which makes China the opportunity to obtain a relatively fair starting point. Now, China is also creating opportunities for countries around the world.
It is understood that, in Africa, Latin America and other places demand for Chinese light industry products and electromechanical products continues to increase, China's equipment and technology in general to adapt their economic structures and technical level. Compared with the products of developed countries, China's investment is more suited to local conditions.
And China will be equipped, technology, investment to output, but also conducive to domestic economic adjustment of industrial structure, accelerate the digestion of excess domestic capacity. CITIC Securities chief economist jianfang that because of China's steel, cement, electrolytic aluminum, shipbuilding and other industries in the world with a certain technology, equipment, scale advantages, competitive enterprises can actively promote overseas transfer. From the experience of developed countries and actual situation of China's industry, the traditional textile industry overcapacity, footwear, automotive and machinery industry, and wind power equipment, polysilicon, photovoltaic solar cells and other emerging industries, have a strong overseas transfer possibilities.
Bluetooth speakers,MP3, Headphones any need, please contact us.JASKEY WORLD